By July 1, 1943, the 390th Bomb Group's air echelons had departed for Salina, Kansas for their final furloughs and processing for departure. Just days later, on July 4, 1943, the ground echelons made their way by train across the United States. Among those on board, it was not unnoticed that they were heading to war to free the world of dictators and oppression–on America's Independence Day.
It took three days for the ground echelons to reach their destination: Camp Shanks, New York.
Camp Shanks was situated on over 2000 acres near Orangetown, along the Hudson River. It served as the largest point of embarkation for servicemen headed to North Africa and Europe during World War II.
Opened in 1942, Camp Shanks contained 1,500 barracks; mess halls, theaters, and a hospital; and other buildings in which some 1.5 million servicemen (approximately 40,000 a month) were issued combat equipment and underwent final inspections before shipping overseas.
Members of the 390th Bomb Group stayed for ten days at the self-supporting complex dubbed "Last Stop, U.S.A." They had heard many rumors about life at Camp Shanks, which was said to have rigorous physical exercises, exams, and mental strain. In reality, boredom was the most common experience among the Group members. The second most consistent occurrence was the packing and repacking of barracks bags, as orders were often changed from what should be in "Bag A" versus "Bag B".
Camp Shanks Today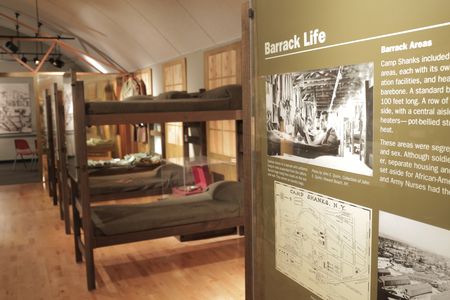 Today, Camp Shanks is commemorated by a small Memorial and Museum. To learn more about the Camp Shanks Museum:
http://www.hudsonrivervalley.com/sites/Camp-Shanks-World-War-II-Museum-/details
To read more about the fascinating development of Camp Shanks and its impact on the region, enjoy this article from the Hudson Valley Magazine:
http://www.hvmag.com/Hudson-Valley-Magazine/September-2010/Remembering-Camp-Shanks/ 
Header Image courtesy of Hudson Valley Magazine. Museum photo courtesy of www.hudsonrivervalley.com.